"That feeling of a rush and the adrenaline that you get from something really funny is like taking your vitamins, it sparks an idea in your mind.  It's nature's medicine, to get us through the ups and downs and unpredictability of life."
"Comedy was always kind of tapping me on the shoulder my whole life, it was just something that was there, and I couldn't really get away from it."


Having realized this to be true, at the age of 5, Kenan's mother enrolled him in acting classes, where he would be able to freely express his creative and comedic talent.  
The rest is history.
From that point forward, Kenan's talent and humor continued to grow into what we now recognize as a light and a load of laughter unto the world.   
Private and Professional;


After long days in the spotlight, being a husband, a father, and watching basketball, is the perfect elixir for bringing Mr.Thompson back down to earth.  With a beautiful wife and two adorable daughters, Kenan says he likes spending his free time close to home, and we don't blame him.  Kenan takes his role as a family man very seriously, stating that finding a balance between private and professional life is 'critical'.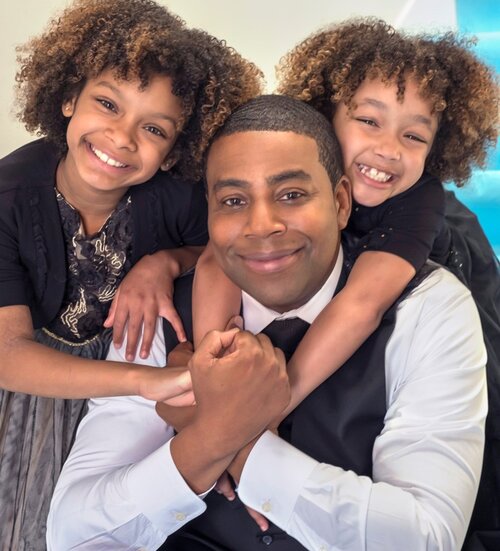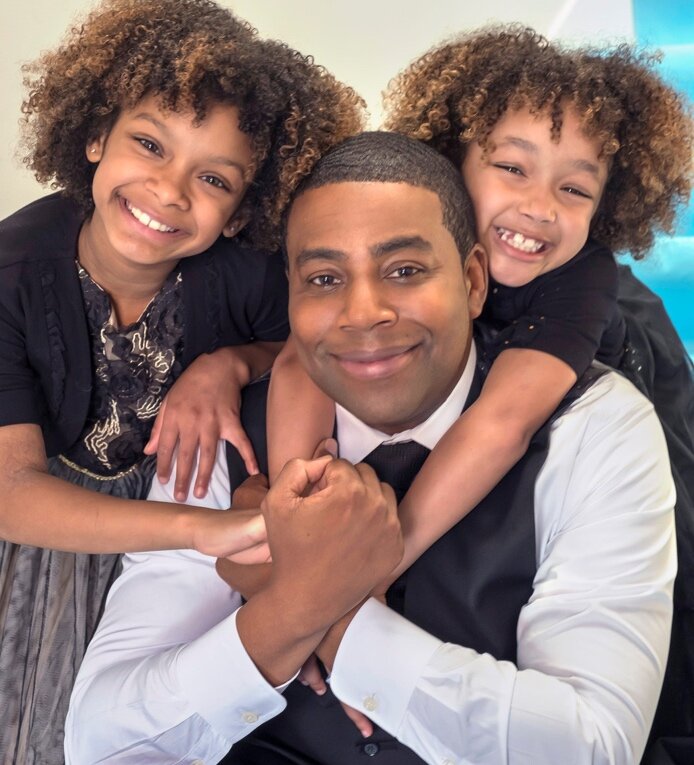 With a job as demanding as his, Kenan says that it's not always easy, but he makes sure to the best of his abilities that the girls grow into a happy home with parents who are present.  


Whether it be busy work schedules, social lives, or 'us' time, connecting back to the one's we love and cherish, is vital.  We need love to grow, and to make ourselves loveable, we must first become loving, disciplined human beings.  Leading by example, Kenan shows us that in creating a balance between the busy and the beautiful, we leave space for what's truly important to flourish.  


Personality and Profession;


There is a great deal of importance, in bringing personality into our professions.  Being able to create and cultivate self-expression in our careers, allows us to thrive in what we do while enjoying the time and effort that's being invested in our craft.  When we do what we love, and we love what we do, our lives become our own personal playground of creativity and passion.  
 For Kenan, although he may be playing different roles on different occasions, he manages to find ways, allowing his humor and wit to shine through whomever he is portraying.  
 "I think that people's real selves are always more prevalent, even when they're playing a different role, you can end up getting a sense of their personality."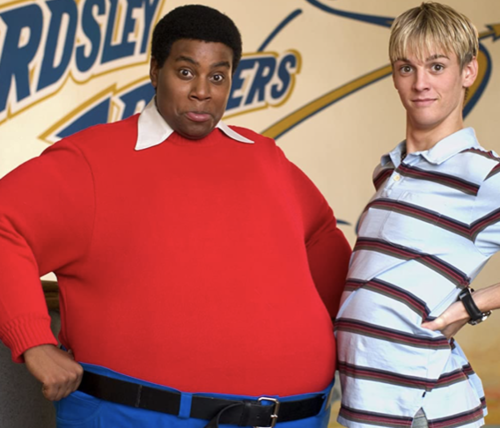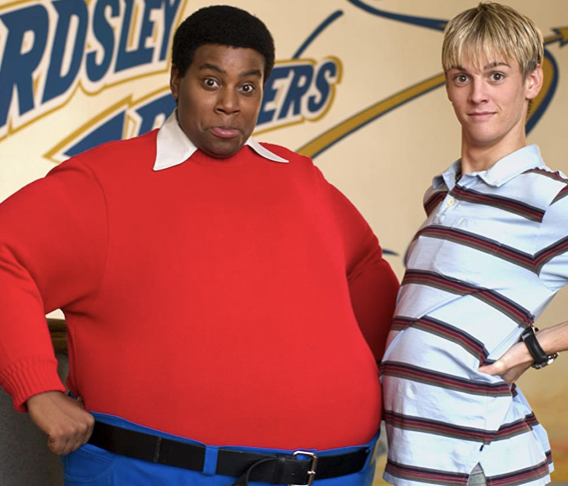 Strength in stumbling; 


Having worked non-stop for six years straight, to then transition into the role of actor for hire; Kenan says that leaving Nickelodeon and venturing into unknown territory, was an experience that granted him loads of fear, and lack of certainty.  
"From my very first job, up until I had left nickelodeon, I had never stopped working.  So, that was the first time I had experienced that lack of security and knowingness, along with being on my own and very far away from family."
 For a couple of years, before joining the SNL team, Kenan says that uncertainty and vagueness took the place in which confidence and comfort had previously resided.  
"There were a few years before I had become a member of SNL, where it was really hit or miss as far as jobs went.  I had been blessed to work at Nickelodeon, going from job to job, and I had become used to that." 
Having to now juggle the feelings of doubt and unpredictability, being far from home and submerged in fame; Kenan gives great gratitude to Saturday Night Live, and his position there, for bridging that gap.

The World Needs Laughter; 

"It's the Yin and Yang. We need rain to know what sunshine is."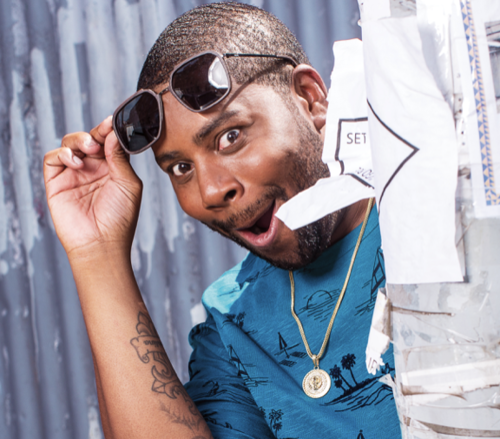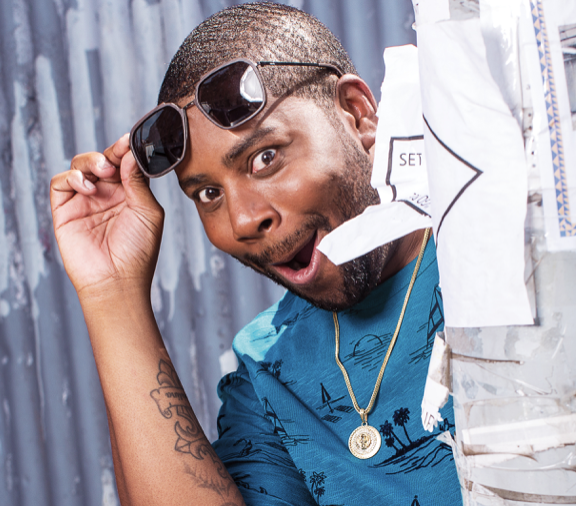 Kenan says that we all need to take our vitamins, become inspired, and go through the ups and downs, with the help of humor.  
"That feeling of a rush and the adrenaline that you get from something really funny is like taking your vitamins, it sparks an idea in your mind.  It's nature's medicine, to get us through the ups and downs and unpredictability of life."


Laughter reminds us that we're okay, that things don't need to be so serious; the show will go on and so will life.  When we let the light of laughter seep through the cracks, that which was once dark and gloomy has the opportunity to become bright and brilliant.  
 "It's the people, on all ends of it.  The people that help us get our crazy ideas off the ground, the people that come up with those crazy ideas, and the people I get to perform those crazy ideas with, it's just a big giant family."
 If only all workplaces could have this sort of positive energy; the energy to create, craft, and be the cause of countless smiles, perhaps the world would be a better, and more cheerful place.  
"I wish I could high-five them all and hug them all like we used to do, just be around each other and go through the ups and downs of trying to get a live show right.  Hopefully, we'll be able to get back to that and get the show rolling."  
 What a Small World;


 "I definitely believe that the universe vibrates around similar people." 


 People attract like-minded individuals all the time; just look at the SNL crew, all goofy, giddy, and hardworking individuals.  When we express ourselves authentically, we can't help but have our expressions mirrored back to us by the people and circumstances that come into our lives.  
To this, Kenan says that we need to be aware as to who is coming into our lives, and why they've made an appearance.  

"We say it's a small world all the time, but we should really look at it as a sign of, 'why am I bumping into these people', or 'why is this small world conversation even happening.'  Maybe more attention needs to be paid to these circles of people and circumstances."


What we sow, we reap.  What we give, we get.  The adage, "Birds of a feather flock together", holds deeper significance than we may realize.  
"Do you wish for kindness?
Be kind. Do you wish for truth?  Be true. 
What you give of yourself, you find; the world is a reflex of you."- James Allen
"If things start aligning, and you start having those types of 'coincidences', you might want to pay attention." 
Best Advice; 

"Don't listen to the word no.  Besides when it comes to auditioning and stuff like that."
Oftentimes in our lives, we hear the word 'no.'  Whether it be a particular position that isn't suitable for us at that time, a dream we have that others don't believe in, or someone encouraging us not to get our hopes up; no becomes society's favorite one-syllable response.  
Kenan says, that specific to auditioning, you're going to hear the word 'no' a lot, but never let it discourage you.  
No Longer Pursue; 


"I was very passionate about wanting people to respect me."
Upon starting his acting career, Kenan says that he wanted nothing more than for people to take him seriously.  Not necessarily chasing fame, but chasing validation that others were acknowledging his foothold and initial accomplishments in the industry, was something that Kenan pursued.  
 "It wasn't necessarily chasing the spotlight, but rather wanting to prove my place in the industry and confirm my contribution."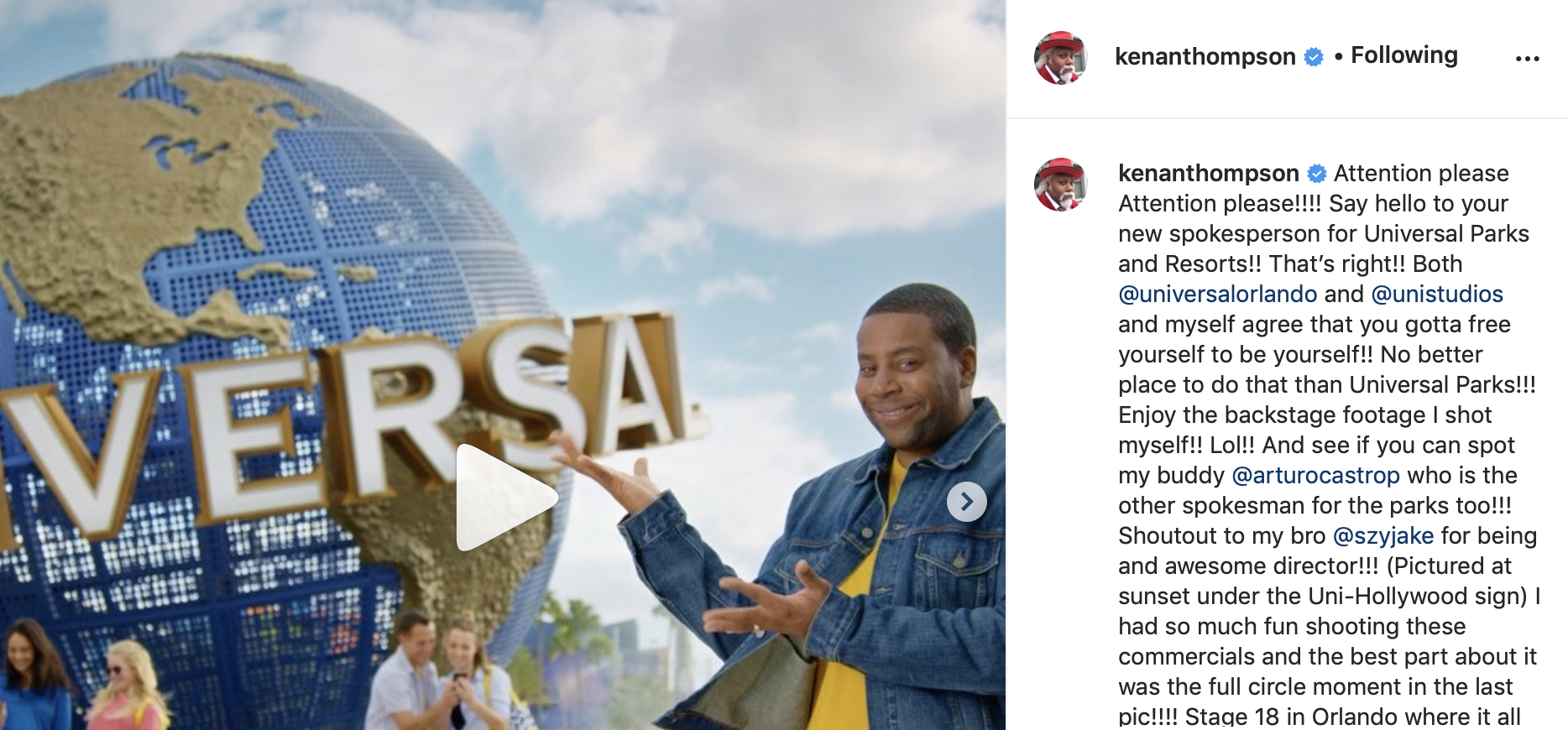 "I was never really big on self-promotion or social media because I saw it from a perspective of not letting the work speak for itself.  But now I know that I don't have to look at it that way, people appreciate what I've already put out there and the work is speaking for itself."

100% True;


We asked Kenan Thompson what he knows 100% to be true, his answer; 
"What I know one hundred percent to be true is that we don't really know anything.  Everything we think that we know is still dependent on this giant unknown thing that's hovering over everyone's head.  That's the one thing that I do know."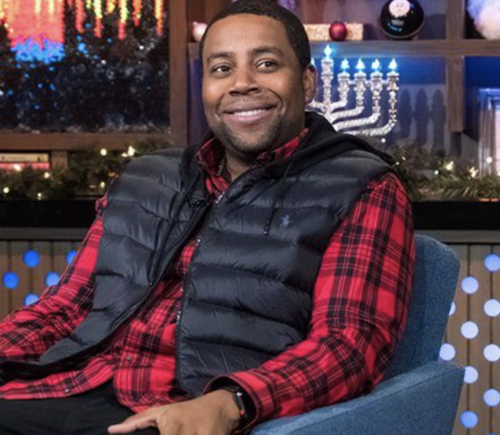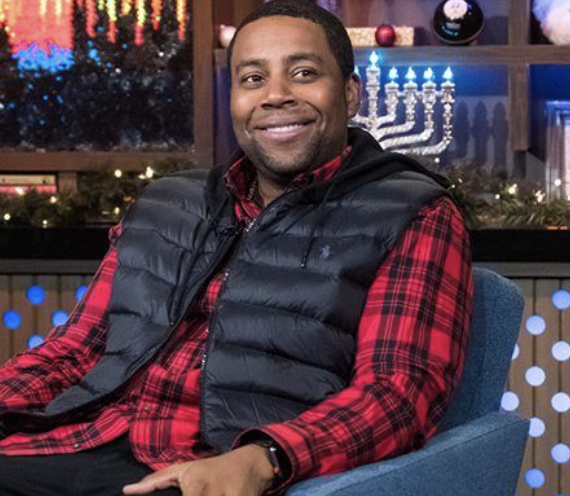 "Nobody has the ultimate answers, so in my opinion, no one can necessarily be ultimately wrong.  Everyone has the freedom to be, depending on their belief system.  I'm not talking about the freedom to be negative; I'm talking about those who are looking towards the light, those looking towards the positive and looking for change towards justice.  
I think we need to embrace everyone's different opinions, all the while marching forward together."
 At TrooMe, we believe that openness is a necessity for living a good life.  We believe that the world and everyone in it has something beautiful to offer if we choose to be willing to receive it.  
May we follow in Kenan's footsteps, remaining open to new possibilities and open to life's lessons; marching forward in an inclusive direction, and always leaving the door open just a crack, to let the light shine in.  
---